Contract Manufacturing Services
Introducing One RESOURCE To Help Optimize Your Lab's Productivity

RESOURCE Contract Manufacturing Services (CMS) improves efficiency by reducing the number of manual pipetting steps and QC, minimizing reagent waste, and simplifying inventory management.
Why choose Beckman Coulter Life Sciences as a trusted RESOURCE for bulk antibody cocktails?
Your cocktails will be manufactured in a cGMP compliant facility.
Your order will include a complimentary pre-lot for evaluation and approval.
You can save time by simplifying inventory management and streamlining your workflows.
Use this calculator to quickly estimate approximately how much you might save.
Typical workflow

Workflow using RESOURCE Contract Manufacturing Services


What Is DURA Innovations?

DRY
A uniform dried reagent layer at the bottom of the tube.
No refrigeration is required and can be stored at room temperature (18-30 degrees C).
UNITIZED
Custom panels are supplied in a single-use cocktail per tube.
Tubes are ready for addition of sample.
REAGENT
Suitable for drying conjugated antibodies, stabilizing them for room temperature (18-30 degrees C) storage.
Tube-to-tube and batch-to-batch consistency.
Cocktails can include enumeration beads for absolute cell counting (optional).
ASSAYS
Conjugates are suitable for flow cytometry.
Manufactured as per your assay requirements.

For DURA Innovations products, you can also save money by reducing reagent waste. Contact your local Beckman Coulter sales rep to understand the wastage for your specific lab to create a detailed cost-savings report specifically for your lab.
Ordering Information
CMS options include: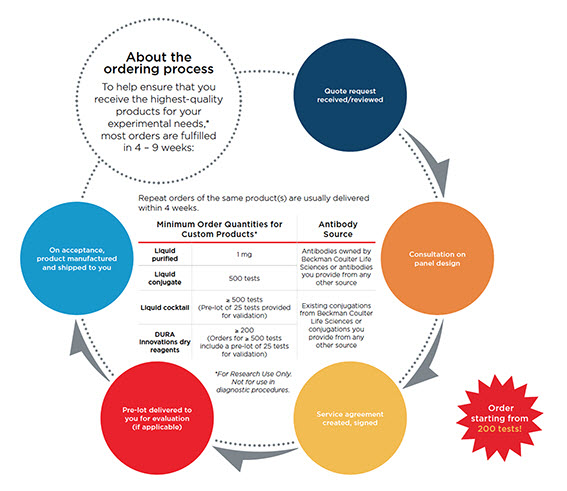 Antibodies from any source (ours, yours, or our competitors).
Dried or liquid formats.
Exclusive DURA Innovations.
Flexible delivery terms.
QC testing on request (as per your validated method and specified acceptance criteria).
Frequently asked questions
Can any lab use this contract service?
Yes. It's available to clinical flow labs, contract research organizations, biopharmaceutical companies that perform clinical trials, or any facility that performs the same test multiple times each day.*
Can I use this service if Beckman Coulter Life Sciences doesn't offer the antibodies I need?
Yes. You simply provide us with the antibodies and instructions. (Note: volumes required for some formulated reagents from other vendors may preclude use in dry-down formats.)
Can you manufacture ASR- and/or IVD-labelled products for us?
No. We will take your proprietary cocktail and manufacture it to your specifications following good manufacturing practices. As part of this proprietary process, you'll receive your products labelled only with:
A brief description
A unique part and lot number
Volume
Any applicable warning
Will we get a sample of our product to evaluate before committing to manufacturing it in bulk?
Yes. After you give us your panel formulation, we'll provide you with 50 tests that you can evaluate for up to 4 weeks.
Can you assist us with titrations?
No. Products contracted under this service are manufactured to your specifications. Your laboratory should validate the products as necessary to meet your specific needs.
Can we establish a delivery schedule that meets our needs?
Yes. After you've approved and received your first order, we'll work with you to create a suitable delivery schedule for recurring orders of the same product.
* For CMS/RESOURCE reagents, the customer is the legal manufacturer of the product. The customer provides the formulation of the reagent combination and bears responsibility for any legal or regulatory requirements for the finished product including validation, product label content, intended use claims and regulatory approvals or clearances based on the product's final use.